MOBILE, Ala. — The death last year of colorful Mobile County lawyer Joseph Brunson touched off a legal fight that has included accusations that another prominent local attorney helped create a phony will.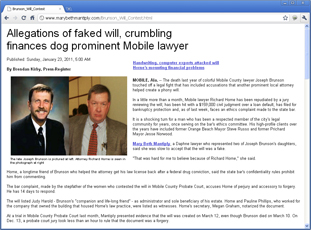 In a little more than a month, Mobile lawyer Richard Horne was repudiated by a jury reviewing the will; was hit with a $159,000 civil judgment over a loan default; filed for bankruptcy protection and was facing an ethics complaint made to the state bar.
It is a shocking turn for a man who has been a respected member of the city's legal community for years, once serving on the bar's ethics committee. His high-profile clients over the years have included former Orange Beach Mayor Steve Russo and former Prichard Mayor Jesse Norwood.
Mary Beth Mantiply, a Daphne lawyer who represented two of Joseph Brunson's daughters, said she was slow to accept that the will was a fake.
"That was hard for me to believe because of Richard Horne," she said.
Horne, a longtime friend of Brunson who helped the attorney get his law license back after a federal drug conviction, said the state bar's confidentiality rules prohibit him from commenting.
The bar complaint, made by the stepfather of the women who contested the will in Mobile County Probate Court, accused Horne of perjury and accessory to forgery. He had 14 days to respond.
The will listed Judy Harold – Brunson's "companion and life-long friend"  as administrator and sole beneficiary of his estate. Horne and Pauline Phillips, who worked for the company that owned the building that housed Horne's law practice, were listed as witnesses. Horne's secretary, Megan Graham, notarized the document.
At a trial in Mobile County Probate Court, Mantiply presented evidence that the will was created on March 12, even though Brunson died on March 10. On Dec. 13, a probate court jury took less than an hour to rule that the document was a forgery.
Mantiply said that the role of Horne, Phillips and Graham are not in doubt.
"If that will was not created until two days after Joe died, and they said they were there when he signed it, that is perjury," she said.
Harold's attorney, Marion "Tut" Wynne, has asked Probate Judge Don Davis to throw out the jury's verdict based on insufficiency of the evidence. The probate judge set a hearing for Feb. 22 to hear arguments on the matter.
Wynne could not be reached for comment.
If the verdict stands, Brunson's estate would go to his children, under state law. Mantiply said it is unclear how much money remains in Brunson's estate. Records show that Brunson gave Harold power of attorney over his finances two days before his death.
Mantiply said that Brunson was loaded with drugs and near death.
"I have no doubt he was incompetent when he signed that," she said.
Brunson's home and 5 acres on Fowl River – which was assessed for almost $300,000 for tax purposes but which Mantiply said could be worth more than twice as much – will now be available to his daughters.
David Stroecker, who married Brunson's ex-wife and helped raise Katie Brunson and Micki Brunson with their mother, said the verdict offered something more valuable than money or real estate to two young women who had a strained and distant relationship with their father for much of their lives. "The real upside is that the two children have proof that their dad loved them," he said.
Micki Brunson, a 21-year-old Auburn University student, said the fight over her father's estate has heaped heartache on her and her sister, a 24-year-old fashion account executive in New York.
"It's not anything I would ever wish on anybody, because it was awful," she said.
Brunson's death followed a brief bout with liver cancer and a lifetime filled with alcohol, drugs, women and fast living. He gained notoriety in the 1990's when law enforcement authorities busted him with a sport utility vehicle full of marijuana.
His half brother and close friend, Murnie Raley, said Brunson was on his way to Dauphin Island to interview for a position as the town's attorney. He said his brother started selling drugs to feed a cocaine habit.
Brunson spent about three years in federal prison and lost his law license for a time. When it came time to apply for reinstatement, it was Horne who helped make his case. Horne also rented Brunson office space as he tried to re-establish his law practice.
Even before Brunson died, Raley said, he and others began to grow concerned about the actions of Harold, whom they called an on-again, off-again girlfriend.
Mantiply introduced documents at the trial showing that Harold signed her last name as Brunson on funeral home documents. According to testimony at the trial, Horne made calls to marriage officials inquiring about marrying Brunson and Harold.
Raley said that Harold's daughter performed a sort-of-marriage ceremony – with Brunson practically unconscious – the night before he died.
Raley said that when he went to his brother's house the next day, his safe had been emptied. Harold testified that the safe contained old report cards of Brunson's children, and other sentimental artifacts with no monetary value.
But Raley said his brother told him on the last day of hunting season – Jan. 31 – that the safe contained his will, two gold bars, gold coins, money, legal documents and other valuables. Raley said Brunson told him he wanted his house sold, with the profits distributed evenly among Katie, Micki, two daughters from other relationships and Harold's granddaughter.
"He had a big soft spot for kids," Raley said.
Handwriting, computer experts attacked fake will.
A Daphne lawyer who contested the will of a deceased attorney from Theodore used a handwriting expert, a computer analysis and the document itself to convince a jury the will was fake.
Joseph Brunson, who died inthe month of March after a brief battle with liver cancer, purportedly made the will a month earlier. It lists Brunson's girlfriend, Judy Harold, as the administrator and sole beneficiary. Richard Horne, a prominent Mobile lawyer, is listed as a witness.
The handwriting expert, Curt Baggett, prepared a report concluding that Brunson's signature on the will is a forgery.
Horne declined to comment, and Marion "Tut" Wynne, Harold's attorney, could not be reached for comment.
Attorney Mary Beth Mantiply, who represented two of Brunson's daughters at a trial in Mobile County Probate Court last month, also had the computer from Brunson's office seized, and hired a computer expert to examine it.
The expert, Gus Dimitrelos, testified that the will was created on March 12, two days after Brunson died – not on Feb. 9, as it appeared. Dimitrelos testified that the person who drafted the will took elaborate steps to conceal the date on which the document was created.
But the kicker, Mantiply said, was the will, itself. She said the three-page document had numerous typographical errors – including the misspelled middle name of one of Brunson's daughters.
"Joe wasan English major and had a photographic memory," said Dave Stroecker, the stepfather of the women who contested the will.
Murnie Raley, Brunson's half brother and close friend, said he and other relatives went to Horne's office on March 12 to ask about funeral arrangements. When Brunson's mother asked about a will, Raley said, Horne said he did not know if one existed.
Horne then asked his secretary, who brought a will to him, Raley said.
Raley said that Horne would not show the will to the family, but informed them that Brunson had left everything to Harold.
Mantiply said it was odd that Horne first claimed not to know if Brunson had a will, given that he ended up listed as a witness to the will.
Mantiply also pointed to inconsistent statements. She said that Pauline Phillips, the other witness to the will, said in a tape-recorded statement that only Brunson and Horne's secretary were at her office when the will was signed and notarized.
By the time she testified at a deposition in October, however, she changed her story to match Horne's, according to transcripts.
In his deposition, Horne testified that he did not prepare paperwork giving Harold power of attorney over Brunson's finances. After Mantiply found a witness who said otherwise, Horne took the unusual step of submitting a correction to his deposition in December, less than two weeks before the probate trial.
In the revised statement, Horne said he realized his mistake during a review of his deposition and a conversation with Harold. He testified at the trial that his revision had nothing to do with the witness that Mantiply produced, according to a transcript of the proceeding.
Horne's mounting financial problems
Mobile lawyer Richard Horne, who has come under fire for a will that a jury determined was a fake, has battled mounting financial problems over the past year.
Here is a summary of those troubles:
Feb. 10:  Two federal tax liens totaling $53,819.71 are levied against Horne.
Aug. 3:  Baldwin County Circuit Judge J. Lang Floyd awards $4,985.16 plus interest to Citibank for an unpaid credit card bill issued to Horne's wife, Patricia.
Aug. 11:  Baldwin County Circuit Judge Robert Wilters awards Citibank $5,111.27 for an unpaid credit card bill issued to Patricia Horne.
Sept. 17:  Richard Horne signs a "deed in lieu of foreclosure," in which he agrees to give up his home on Main Street in Montrose. That same day, Citibank wins a default judgment in the amount of $4,400.50 plus court costs over failure to make payments on a credit card.
Sept. 22:  NSA Agencies, which owns the building at 261 N. Joachim St. in Mobile where Horne had a second-floor law office, files a lawsuit in Mobile County Circuit Court. The suit accuses Horne of breaking the lease and failing to pay $26,400 in rent.
Dec. 27:  Chief U.S. District Judge William Steele awards Wells Fargo $159,880 plus interests and attorney fees over a pair of loans that Horne defaulted on.
Jan. 5:  Horne's home in Daphne is sold for $165,000 in a public auction following a foreclosure.
Jan. 10:  Horne files for bankruptcy protection, claiming assets of $461,604 and debts of $1.046 million. The bankruptcy halts all debt collection by Horne's creditors while he works out a repayment plan.
More Article here:  www.marybethmantiply.com