Home » Posts tagged 'forged'
Tag Archives:
forged
Facebook and CEO Mark Zuckerberg took the gloves off in its defense against Paul Ceglia, a man that argues he owns half of the company over a 2003 contract.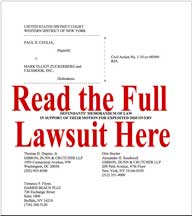 The filing aims to expedite a discovery process that includes producing the original emails Zuckerberg allegedly signed, native digital copies of those documents and Ceglia's computers. Facebook and Zuckerberg say in their filing that Ceglia is conducting fraud.
Related: Facebook: Ceglia claims 'brazen and outrageous fraud'; Read the response Paul Ceglia vs. Facebook's Mark Zuckerberg: Here's the complaint and it's a good read
Zuckerberg also denied he signed any contract from Ceglia and sent emails. "The evidence Defendants have gathered to date corroborates Zuckerberg's sworn statements and confirms that Ceglia's documents are forgeries," said Zuckerberg and Facebook in a filing.
Among the key excerpts: