I came across this article in a Las Vegas Newspaper, and it just reminds me of all the times in my career that I've seen notaries and attorneys involved in fraudulent documents.
This case is about an attorney who intentionally stole $200,000 from someone's estate who trusted him to manage it  after he died.  Can you imagine trusting someone to manage your estate, and then your children have to fight the attorney who has the money to get the estate?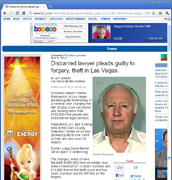 If you read the article, it goes on to say that this client was not the first victim. There have been 30 or  40.  In fact, before you hire an attorney, you might want to check with the state bar association.  Back in 2000 this guy had to sign an agreement not to provide legal services in divorce, personal injury, immigration and bankruptcy.  Can you believe it?  They still let him practice and handle probate cases despite the fact they knew he was probably a thief.
Disbarred lawyer Charles Radosevich of Las Vegas pleaded guilty in a criminal case charging him with forging court documents and stealing more than $200,000 from people who hired him for legal services.
Radosevich, 67, who is being held at the Clark County Detention Center on no bail, pleaded guilty to one count of theft and one count of forgery. District Judge David Barker set a date for the sentencing.
The charges, which involve the theft of $90,900 from an estate case, draw a maximum of 10 years in prison, a $10,000 fine for the theft count, four years in prison, and a $5,000 fine on the forgery.
Radosevich was charged with stealing a total of $140,000 from the estate of the mother of Darlene Lonzaga and her brother, Jimmy Montgomery. Radosevich was accused of circulating a phony court document with the forged signature of District Judge Elizabeth Gonzalez in an effort to swindle the brother and sister out of the estate money.
Ten other felony charges are being dismissed , according to the agreement .
But Radosevich agreed to pay restitution to all of his victims, including those named in the charges being dismissed.
One of those victims, Southern California real estate agent Michelle Geris, ended up being arrested blocks from her home in August 2009 after Radosevich was accused of having pocketed $53,000 she gave him to pay off a gambling debt to Green Valley Ranch Station.
Radosevich was supposed to give the money to the District Attorney's Bad Check Unit, which planned to turn it over to Green Valley Ranch and then dismiss the criminal debt case against Geris. But when the Bad Check Unit did not receive the $53,000, it obtained a warrant for her arrest. That case is on hold as a result of Radosevich's criminal troubles, and Geris is suing Radosevich in District Court.
Chief Deputy District Attorney Mike Staudaher said Wednesday he believes Radosevich left about 30 victims in his wake.
As part of his deal with prosecutors, Radosevich agreed to plead guilty to separate misdemeanor charges of obtaining money under false pretenses and unlawfully practicing law. He also agreed to plead guilty to two more felony theft charges and one felony count of obtaining money under false pretenses in a new case Staudaher plans to file this week.
Radosevich fled Las Vegas in September on the eve of his trial, but was captured in Phoenix after he stepped off a flight from Costa Rica and returned to Las Vegas.
Prosecutors have alleged that Radosevich, disbarred in Colorado and Nebraska, was forging documents and stealing money from clients even after being charged in his current case.
At the request of the Nevada State Bar, prosecutors filed criminal charges against Radosevich in October 2009 and added new charges in April 2010  after learning of more victims.
The State Bar has kept tabs on Radosevich since 2000, when it got him to sign an agreement promising, among other things, not to provide legal services in divorce, personal injury, immigration and bankruptcy cases.
More Article and News here : http://www.lvrj.com, http://www.thesmokinggun.com/file/last-will-michael-joseph-jackson