Home » Posts tagged 'Fake will'
Tag Archives:
Fake will
A forged will sends Jack Kerouac scholars, fans, collectors, literary executors, and lawyers on the warpath.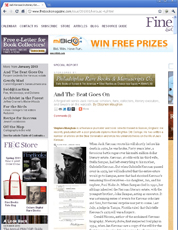 When Jack Kerouac died, wallowing in alcohol and obscurity, the bank estimated his estate's value at $91. He left everything to his mother, and when she died, she left it to Kerouac's third wife, Stella Sampas—or so everyone believed. A Florida court ruled Gabrielle Kerouac's will a forgery. But thanks to an earlier summary judgment, the $20 million estate, which Stella's family inherited after her death, is staying put.
When Kerouac's disowned daughter Jan saw the will, she immediately suspected it was a forgery. "It was all weird and scraggly and misspelled," she told the Telegraph. But Jan died before the case could be resolved, and a judge issued a ruling legitimizing the Sampas family's claim. Only then did Kerouac's nephew turn up with a letter in which the late author said he didn't want to leave "a dang blasted, fucking, goddamn thing to my wife's one hundred Greek relatives." It was too late; the ruling stands.
When Jack Kerouac wrote his will shortly before his death in 1969, he was broke. Forty years later a ferocious battle raged over his multi-million dollar literary estate. Kerouac, at odds with his third wife, Stella Sampas, had left everything to his mother, Gabrielle Kerouac. But when Gabrielle Kerouac passed away in 1973, her will indicated that the entire estate would go to Sampas…news that had shocked Kerouac's remaining blood relatives…his daughter Jan, and his nephew Paul Blake Jr. When Sampas died in 1990, her siblings inherited the Kerouac literary estate, with the youngest brother, John Sampas, acting as executor. It was a stunning series of events for Kerouac scholars and fans, but the real surprise was yet to come…a judge in Tampa, Florida ruled that Gabrielle Kerouac's 1973 will was a forgery.
Gerald Nicosia, author of the acclaimed Kerouac biography, Memory Babe, first suspected foul play in 1994, when Jan Kerouac saw a copy of the will for the first time and noticed that her grandmother's name was misspelled.
"We are dealing with perhaps the most influential American novelist of the twentieth century, after all, and it is now proven that his $30 million estate was stolen, plain and simple," said Nicosia.
The Sampas family was not directly involved in the hearing, but John Sampas disagreed with the verdict.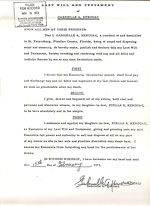 "We do not believe the will of Gabrielle Kerouac was forged and do believe the judge based his ruling on fictitious accounts by a doctor who never met Gabrielle Kerouac," he wrote in an email.
For Paul Blake Jr., ho rarely speaks publicly, the court decision must offer some consolation. He has long claimed that his Uncle Jack posted him a letter the day before he died in which the famous author wrote, "I've turned over my entire estate to Memere (Mummy), and if she dies before me, it is then turned over to you, and if I die thereafter, it all goes to you." Kerouac's letter said he wished to leave it "to someone directly connected with the last remaining drop of my direct blood line … and not to leave a dang blasted, fucking thing to my wife's one hundred Greek relatives … just telling you the facts of how it is." The letter, dated October 20, 1969, and addressed to "My little Paul," also declares that Kerouac was intending to divorce his wife (indeed, he had already begun divorce proceedings) and concludes, "I want you to know that even if you're a crazy nut, you can do anything you want with my property if I kick the bucket, because we're of the same blood."
Blake, who was desperate for money, sold that letter to art dealer Alan Horowitz in order to make ends meet. Horowitz then sold the letter to the New York Public Library, where it remains to this day in the Henry W. and Albert A. Berg Collection of English and American Literature. The Sampas family insisted the letter itself was a forgery, and Gabrielle's will remained unchallenged for more than two decades. In 1994, after Jan Kerouac first noticed the misspelling on Gabrielle's will, she then took a trip to Florida to interview the surviving witness to the will and filed a lawsuit. Blake was missing at that time and so he could not join her. Before the case made it to court, Jan died from kidney failure in 1996.
Following Jan's death, Blake was the only known surviving Kerouac blood relative. He pressed forward with the forgery case. During this time, Blake was in a bad way, often homeless, struggling with alcoholism and poverty. This meant that his lawyer, Bill Wagner, later joined by his son Alan, were not only at the forefront of an extensive probate battle, but for a great deal of this time they were unable to even locate their client. Despite these obstacles, the ruling in July 2009 by Judge George W. Greer in the sixth Judicial Circuit Court in Tampa, Florida declared that the original will was not signed by Gabrielle Kerouac, and was therefore a forgery.
Greer, in an eleven-page statement, stressed "Gabrielle Kerouac was not a well woman when her purported will was signed; she could only move her hand and scribble her name. She would have lacked coordination to affix that signature." This raises the question: who forged the document, and why? Greer refused to explore that possibility, stating that the Court was not required to determine whose signature it was, but "It is enough that Gabrielle Kerouac did not herself sign it." According to John Sampas, though, "Judge Greer based his decision on fiction; his hearing was a charade, a kangaroo court."
Given the July 2009 decision, it may seem surprising that so few of Jack Kerouac's Beat Generation friends and acquaintances advocated for a closer look at Gabrielle's will. Dadait poet and friend of Jan Kerouac, Carl Macki, explained that as Jan became more passionate and determined to proceed with her legal case, she had also "grown increasingly defiant towards the Sampas family and those close friends of her father who betrayed her in the struggle over the will of her grandmother." In fact, as Jan was preparing her case against the Sampas family in the early 1990s, Allen Ginsberg told the writer Aram Saroyan that Jan's appeal was fruitless, that he personally had spent "several days researching" the charges and found no basis in Jan's opposition. This view was backed up by the majority of the Beats, with the exception of the poet Gregory Corso, who was one of the few who signed a petition to enable Jan to speak at a Kerouac conference in New York in 1995.  As it turned out, she wasn't granted permission and was thrown out of the conference when she approached the microphone to say a few words about the value of preserving her father's original papers.
Some Kerouac scholars attribute this to the power and influence of the Sampas family, who have watched the value of the Kerouac estate increase exponentially. Brenda Knight, author of Women of the Beat Generation, said she believes that many of Jack Kerouac's friends "were worried about getting 'blacklisted' in an unofficial way." The Sampas family owned "one of the most valuable literary estates in the world," she said, and could be a powerful force that a less commercially successful writer or poet might not want to provoke.
Perhaps many of these writers were afraid to align themselves with the daughter of Jack Kerouac, especially when he himself had only seen his daughter twice in his life. Nicosia recalled specific examples of inaccurate stories he believed were "placed by the Sampas family," including a story in the Boston Herald about Jan being an "illegitimate daughter."
Sampas, however, believes he has been mischaracterized. In a previously published interview, he said, "I'm a nobody. They make me out to be some powerful Mafia character. I'm just Jack Kerouac's brother-in-law." More recently, he reacted to Nicosia's claims by retorting "Nicosia is a well known 'nut case' who has been stalking the Kerouac estate for years."
One can only guess at how things might have evolved had the will not been forged, but it's likely that Jan would have had money to treat her health problems, and Blake might have avoided homelessness and poverty. Before the forgery verdict, Blake himself couldn't understand why his beloved grandmother Gabrielle wouldn't have provided for him in her will. At the very least, Blake thought he would have received a baseball card game his uncle made, which they often played together. The Sampas family have repeatedly said they would have gladly helped Blake with money if he had asked them directly instead of pressing ahead with Jan Kerouac's court case.
For sure, there was a lot of money to go around. In the early nineties when John Sampas took over the estate from Stella, he enlisted the help of Massachusetts bookshop owner Jeffrey Weinberg to value Kerouac memorabilia, including letters, signed editions, and drafts. According to Weinberg, Sampas told him, "I want to turn some of this stuff into cash." And they did. To the consternation of some Kerouac fans, at the height of Kerouac's popularity, actor Johnny Depp dropped more than $40,000 on various Kerouac items, including a trench coat, a hat, and a suitcase when he visited the Kerouac estate. Then, in 2001, the Sampas family sold the original scroll of what many consider Kerouac's masterpiece, On The Road, to James Irsay, owner of the Indianapolis Colts, for $2.43 million.
The sell-off to private collectors explains why some scholars and fans have negative feelings about the Sampas family. Nancy Grace, author of Jack Kerouac and the Literary Imagination (2007), said, "Many Kerouac scholars have long thought that John Sampas was milking the estate for every penny he could get and that he didn't care about genuine scholarship at all, or Kerouac for that matter."
Even more frustrating for scholars has been the loss or lack of access to several items, such as the original scroll of On The Road—which has been shipped around the world in a locked glass case—or any complete draft of The Dharma Bums, Big Sur, and Vanity of Duluoz, all of which have either been sold to private collectors or remain unaccounted for. Ann Charters, author of the first biography of Kerouac, explained, "I don't think Kerouac's unpublished papers should be sold off to private collectors; they should be made available to scholars ASAP." She added that his "nonconformist style of writing his fictional autobiography makes it imperative for scholars to have access to the 'first draft' manuscripts."
None of the items listed above appear in the Berg Collection at NYPL, which purchased close to 2,000 Kerouac documents from John Sampas for an undisclosed sum in 2001. Kerouac scholars say the Berg Collection, while deeply impressive, has some major gaps. There is nothing at all on Big Sur, and the original On the Road is, well, on the road. However, Isaac Gewirtz, curator of the Berg Collection, claimed, "98% of what survives of his writing, not including correspondence, is here and is available for study." (An exhibition of the Jack Kerouac Archive ran from November 2007 to March 2008, and an illustrated exhibition catalogue showing the breadth of the materials is available.)
What exactly remains of the Kerouac estate is a closely guarded secret.  Apparently, the Sampas family keeps the archive in a bank vault, available only to hand-picked scholars and biographers such as Douglas Brinkley, author of the unfinished and unpublished official Jack Kerouac biography, which was cancelled by Penguin after Brinkley failed to deliver the book in time for the 50th anniversary of On The Road. Rumors circulated following Penguin's decision to cancel the book that Sampas planned to write the official biography himself. When questioned about it, Sampas declared that of all the Kerouac biographies available, "none are of any quality."
The recent court decision seems favorable for Blake, who currently lives in a small cabin in Arizona with his family. His lawyers, Bill and Alan Wagner, aren't convinced. Alan Wagner confessed, "What happens next is uncertain," adding that it might still be quite some time before Blake sees any money from the estate, if at all. The Wagners are veteran Tampa attorneys who specialize in personal injury cases; they are not Kerouac fans, had never read his books, and claimed they had to research him before they agreed to take the case. Sampas has dismissed Bill Wagner as "corrupt."
The Sampas family has already launched a number of appeals. In a recent email, Sampas wrote, "We did not inherit from Gabrielle's will, we inherited from Stella's will; no one has a legal claim against me." He also made a brief statement to recapitulate a 2004 court ruling based on Florida inheritance law that "bars Mr. Blake from seeking any assets or items which came to us through Stella Sampas Kerouac's estate; the practical effect of this ruling appears to be none." In short, there is no turning back the clock and reclaiming assets for what has already been sold.
The royalties from Kerouac's books—which generate a good income—continue to go to the Sampas family. On The Road alone sells upward of 60,000 copies a year. The Wagners are seeking to challenge the state inheritance law with federal copyright law in an attempt to obtain a fair share of the royalties for Blake.
Legal experts predict Blake may be entitled to a third of what is left of the Kerouac estate, but fighting the loopholes in the convoluted legal documentation and fighting the Sampas' may prove a lengthy and difficult process. Alan Wagner explained, "It is not known what happened to all of Jack Kerouac's assets and how they were distributed or transferred. All efforts to date to learn that information have been resisted by the Sampas'. "  He further detailed their ongoing attempt to get the current Kerouac estate valued independently before planning their next move, stressing that "Paul has said he doesn't expect to get any money, but merely wants to set the record straight."
It's possible the Sampas family have very few assets left from the vast estate they inherited. "They sold hundreds, probably thousands of pieces, of Kerouac's archives to collectors all over the world. We'll never see most of that stuff," Nicosia said. And if it is true that the Berg Collection has 98% of Kerouac's writing, Blake would be lucky to see even a handful of his uncle's papers.
Blake enjoyed a close relationship with his famous uncle. From all accounts, he isn't searching for fame or fortune. As his lawyer put it, "Paul Blake is a very private person, but I can tell you that having spoken to him after the decision (that the original will was a forgery),he was very happy about it and pleased with the court's findings." Nicosia also spoke to Blake on the phone the day after the decision. He said Blake told him, "When I heard the news, I felt good for the first time in years."
More Article at http://www.finebooksmagazine.com