Home » Posts tagged 'Forge'
Tag Archives:
Forge
I love this story about a Clintonville woman who is now facing jail time for forgery and perjury.
It is a short article, but it reminds me of an actual true situation where I was inspecting the last will and testament of a person who had passed away.  The will was in the L.A. County Courthouse.  I was down there with my microscope and magnifying glass inspecting the will, and attached to the purported last will and testament was a notarized document with the copyright date of 2004.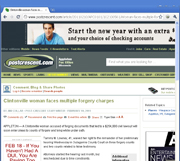 It even had the website they downloaded the notary form from.  That did not jive with the fact that the signatures were all signed and notarized in 1999.  Now you don't have to be a time traveler to understand that it's not possible to sign a document that didn't exist until six years later.  That's what this article is saying.
So the moral of the story is if you're going to forge a document, submit it to the court, and you're going to sue somebody for $254,000 saying that they signed a promissory note, you should at least white out the copyright on the forms.
The point of the story is very simple.  As a handwriting expert you are also a document examiner.  In fact, you're primarily a document examiner and secondly a handwriting expert.  As a document examiner you better notice the copyright, you better notice the staple holes, and you better be able to tell whether or not a document is a color photocopy or an original.  That's your job.  Enjoy the article.
APPLETON — A Clintonville woman accused of forging documents that led to a $254,000 civil lawsuit will soon enter pleas to counts of forgery and lying while under oath.
Tammy M. Lowney, 41, waived her right to the remainder of her preliminary hearing Wednesday in Outagamie County Court on three forgery counts and two counts related to false testimony.
Attorneys started the hearing last month, but rescheduled due to time constraints.
The case stems from a 2006 Waupaca County lawsuit filed by the owners of Friendship Valley Dairy, Christopher and Mary Therese Gilling of Marion. The Gillings sued Steven and Malia Lowney, claiming the couple owed them the money as documented in 1999 and 2000 promissory notes carrying their signatures.
Appleton police Detective Neal Rabas testified last month to a copyright date of 2005 found on the forms used in creation of the notes. It didn't jive with the contents of the contracts.
"The first note was signed in 1999," Rabas said. "The second note was dated 2000."
The Lowneys filed a counter suit in Outagamie County against the dairy company, the Gillings and Tammy Lowney, among others, claiming "a systematic campaign to destroy the Lowneys emotionally and to ruin them financially."
Both civil cases have since been dismissed.
The false swearing charges against Tammy Lowney relate to testimony about the promissory notes she gave during depositions in one of the civil cases. Steven Lowney said his sister-in-law claimed the notes were authentic when she testified in the civil case.
Each of the five counts against her carries a maximum penalty of six years in prison and $10,000 in fines.
Read more: http://www.postcrescent.com/article/20110210/APC0101/102100561/Clintonville-woman-faces-multiple-forgery-charges#ixzz1EGr9YUio
More articles here: http://www.postcrescent.com
An Australian woman steals $88,837.00 from a junior rugby league.
Listen, forgery happens all over the world.  It always amazes me; some people with a chance to steal money will steal money even from a bunch of kids playing rugby.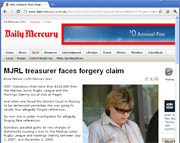 In this case, this is from the State of Queensland in Australia and the former McKay Junior Rugby League treasurer, Jody Sainsbury, was jailed and pending sentences for stealing more than $160,000.00.
She actually tendered a check and returned $88,000.00 of it, but she still faces charges, but as in good sportsmanship the game must go on.  No matter where you are in the world, their are people who forge signatures but there are also forgery experts that will help you.
JODY Sainsbury stole more than $160,000 from the Mackay Junior Rugby League and the Hastings Deering social club at Paget.
And when she faced the District Court in Mackay to be sentenced yesterday she was going to tender four allegedly-forged references.
So now she is under investigation for allegedly forging fake references.
Sainsbury pleaded guilty to two charges of dishonestly causing a loss to the Mackay Junior Rugby League and Hastings Deering between July 1, 2007, and December 1, 2008.
Crown prosecutor David Morters told the court that he had been provided on Thursday with copies of four references which Mrs Sainsbury's barrister was going to tender in court.
One was said to be from her current employer, CQ Nurse, two were from representatives of Hastings Deering and there was another one from a representative of the Mackay State High School.
"I made some inquiries of at least one of the Hastings Deering representatives and it (the reference) was not made by the person who was purported to have made it," Mr Morters said. "It appears there is no legitimacy for the references provided."
Barrister Bronwyn Hartigan, for Sainsbury, tendered a bank cheque for $88,837 to repay the "balance of the amount owing" to the Mackay Junior Rugby League.
She then asked for the sentencing to be delayed.
Judge Stuart Durward, SC, remanded Sainsbury in custody for sentencing on a date to be set. Police are investigating the claims that Sainsbury's references were forged.
During yesterday's proceedings it was disclosed that the amount of money missing from the Hastings Deering social club was $83,707. Sainsbury was treasurer of the Mackay Junior Rugby League which held an emergency meeting in December 2009 to discuss the loss of funds from its bank accounts.
The MJRL had eight local clubs – Brothers Bulldogs, North Mackay Magpies, Proserpine, Northern Suburbs, Sarina, Southern Suburbs, Walkerston and Western Suburbs.
Despite the loss of funds, the MJRL season went ahead in 2010.
More articles @ http://www.dailymercury.com.au