Home » Posts tagged 'McKay Junior Rugby League'
Tag Archives:
McKay Junior Rugby League
An Australian woman steals $88,837.00 from a junior rugby league.
Listen, forgery happens all over the world.  It always amazes me; some people with a chance to steal money will steal money even from a bunch of kids playing rugby.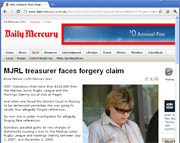 In this case, this is from the State of Queensland in Australia and the former McKay Junior Rugby League treasurer, Jody Sainsbury, was jailed and pending sentences for stealing more than $160,000.00.
She actually tendered a check and returned $88,000.00 of it, but she still faces charges, but as in good sportsmanship the game must go on.  No matter where you are in the world, their are people who forge signatures but there are also forgery experts that will help you.
JODY Sainsbury stole more than $160,000 from the Mackay Junior Rugby League and the Hastings Deering social club at Paget.
And when she faced the District Court in Mackay to be sentenced yesterday she was going to tender four allegedly-forged references.
So now she is under investigation for allegedly forging fake references.
Sainsbury pleaded guilty to two charges of dishonestly causing a loss to the Mackay Junior Rugby League and Hastings Deering between July 1, 2007, and December 1, 2008.
Crown prosecutor David Morters told the court that he had been provided on Thursday with copies of four references which Mrs Sainsbury's barrister was going to tender in court.
One was said to be from her current employer, CQ Nurse, two were from representatives of Hastings Deering and there was another one from a representative of the Mackay State High School.
"I made some inquiries of at least one of the Hastings Deering representatives and it (the reference) was not made by the person who was purported to have made it," Mr Morters said. "It appears there is no legitimacy for the references provided."
Barrister Bronwyn Hartigan, for Sainsbury, tendered a bank cheque for $88,837 to repay the "balance of the amount owing" to the Mackay Junior Rugby League.
She then asked for the sentencing to be delayed.
Judge Stuart Durward, SC, remanded Sainsbury in custody for sentencing on a date to be set. Police are investigating the claims that Sainsbury's references were forged.
During yesterday's proceedings it was disclosed that the amount of money missing from the Hastings Deering social club was $83,707. Sainsbury was treasurer of the Mackay Junior Rugby League which held an emergency meeting in December 2009 to discuss the loss of funds from its bank accounts.
The MJRL had eight local clubs – Brothers Bulldogs, North Mackay Magpies, Proserpine, Northern Suburbs, Sarina, Southern Suburbs, Walkerston and Western Suburbs.
Despite the loss of funds, the MJRL season went ahead in 2010.
More articles @ http://www.dailymercury.com.au