Home » Posts tagged 'Forged Divorce papers'
Tag Archives:
Forged Divorce papers
Why hire an expensive divorce attorney if you are working for the Nigerian Army, just forge your own divorce papers, submit them to the Army, move out of your house and kick your wife and family to the curb.
If this sounds harsh, well it is.  This recent story is about a Nigerian Army Major alleged forged his divorce papers so he could leave his wife and take up with another woman.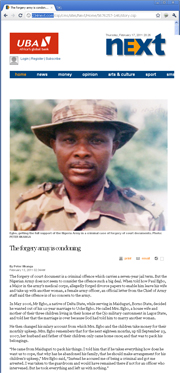 It's a long article but the bottom line is this.  If you have enough clout you can simply forge paperwork and your employer in this case the Nigerian Army, will simply look the other way and say "ahh, so what.  He didn't like his wife; he left her, kicked his kids out on the street, but he should get the house."  It's a long drawn out story in a country where the law is not as just as it should be.
On a signed note I have been contacted numerous times from people in African countries to fly over to Africa to testify in a Nigerian court and other courts which quite frankly scare me.
I am also helping people get justice but I am not for flying to a third world country with a questionable justice system and ending up in an African prison because somebody in power didn't like my opinion.  No thanks.  I'll stick to the Western European court systems where at least there is some semblance and reasonableness and fairness.  Enjoy the article.
The forgery of court document is a criminal offence which carries a seven-year jail term. But the Nigerian Army does not seem to consider the offence such a big deal. When told how Paul Egbo, a Major in the army's medical corps, allegedly forged divorce papers to enable him leave his wife and take up with another woman, a female army officer, an official letter from the Chief of Army staff said the offence is of no concern to the army.
In May 2006, Mr Egbo, a native of Delta State, while serving in Maiduguri, Borno State, decided he wanted out of his 12-year marriage to Uche Egbo. He called Mrs. Egbo, a house wife and mother of their three children living in their home at the Ojo military cantonment in Lagos State, and told her that the marriage is over because God had told him to marry another woman.
He then changed his salary account from which Mrs. Egbo and the children take money for their monthly upkeep. Mrs. Egbo remembers that for the next eighteen months, up till September 23, 2007, her husband and father of their children only came home once; and that was to pack his belongings.
"He came from Maiduguri to pack his things. I told him that if he takes everything how does he want us to cope, that why has he abandoned his family, that he should make arrangement for his children's upkeep," Mrs Egbo said, "Instead he accused me of being a criminal and got me arrested. I was taken to the guardroom and would have remained there if not for an officer who intervened. But he took everything and left us with nothing."
Mrs. Egbo's ordeal was not over. On May 20, 2008, Military Police personnel came to her home and handed her a Lagos State High Court order dated December 31, 2007, which declared her marriage to Mr. Egbo dissolved. On the orders of her husband, they had come to evict her with immediate effect from the house.
"It was only because the cantonment commandant, Lieutenant Colonel Apere, intervened that I was spared. He instructed Paul to come and sort things out himself because the army gave the house to him and not me," said Mrs. Egbo, who hails from Anambra State.
Being the only child of an elderly pensioner mother, Mrs. Egbo was totally dependent on her husband. Now abandoned, she became a wreck. Unable to bear the psychological trauma any longer, she moved out of the barracks in September 2008 and began squatting with some acquaintances.
To put food on the table, she started doing menial jobs. She could not pay her children's school fees, and they had to miss one year of school. She and her three children practically lived off handouts from sympathizers.
A case of forgery
It was in this condition that Kayode Ogunjobi, a lawyer, met Mrs. Egbo. Filled with compassion, he took up her case free of charge and ran a check on the decree nisi and the decree absolute allegedly issued by the court dissolving the marriage. The response from the Lagos State judiciary in a letter dated July 17, 2008 revealed that Mr. Egbo's documents were fake.
"We have checked our records and we report that the document did not emanate from the High Court of Lagos State as Suit No. HD/241/2007 does not exist in our records," wrote Mariam Emeya, then a Chief Magistrate. "Furthermore it is very obvious that the document is fake as Mr. A. Ola Dada, the ACR (Assistant Chief Registrar) Litigation who purportedly signed the letter in 2007 retired in 2005."
Mrs. Emeya, who at the time was also the deputy chief registrar of administration in the Lagos State High Court, further observed that a decree nisi only becomes absolute after three months but Mr. Egbo's decree absolute terminated his marriage after two months.
"In the final analysis, there is no indication of the court or judge who purportedly dissolved the said marriage. It is therefore clear that the document is fake," concluded Mrs. Emeya.
The army didn't care
In December 2008, Mr. Ogunjobi, through Rouq & Company Solicitors and Advocates, petitioned the Office of the Chief of Army Staff, then headed by Abdulrahaman Dambazau, a lieutenant general; and Mike Okiro, the then Inspector-General of Police. While the Police never responded, the Army through its Special Investigation Bureau (SIB) in Apapa, Lagos State, between August and September 2009, investigated Mr. Egbo's forgery case and the abandoning of his family responsibilities.
"We were invited by the SIB and we went. The investigation was concluded and the report forwarded. They said they were sending recommendations to Defence Headquarters, and that it is an internal thing, so they will get back to us when they need us. And that is the last we have heard from them, till now," Mr. Ogunjobi said.
By June 2010, the army had still not responded and Mr. Egbo had not rendered any financial help to his family in years. During this time, Mrs. Egbo said her husband had married another woman, a female army captain she identified as Rachael Gashua, serving in the army's Military Police Corps in Maiduguri.
After her children were sent away from school just before their promotion exams for non-payment of school fees, Mrs. Egbo approached Project Alert, a non-governmental organisation promoting women rights. They assisted her with N35,000; and together with the National Human Rights Commission (NHRC) petitioned the present Chief of Army Staff, Onyeabo Ihejirika, over Mr. Egbo's forgery of judicial documents and abandonment of family.
But Mr. Ihejirika's response to the Commission was that the army would not entertain the matter. Through his staff, one Lieutenant Colonel A. A. Ali, via a letter received by the NHRC on November 22, 2010, the army chief further recommended that if Mrs. Egbo felt so aggrieved, she could lay her complaints at the law courts.
"The issues raised are purely domestic in nature and should be settle between the spouses. On the other hand, if she feels strongly about the alleged ill treatment by her husband, she may take up a legal action against him. The Nigeria Army does not have the capacity to impose a wife on a personnel," read the letter signed by Mr. Ali "for Chief of Army Staff".
Mr. Egbo could not be reached on his mobile telephone. When contacted, his lawyer, Jonah Daniel of KC Okolodia & Co, said the media does not have any merit in reporting the case.
"I don't think it is safe for your paper to publish this story. Paul's wife has reported to the Nigerian army and it's being investigated," Mr. Daniel said. "Also the Human Rights Commission is investigating. This matter is under investigation, so I don't know what you want me to say."
But when asked if he procured the fake divorce documents for Mr. Egbo, he replied: "I can't answer that question. I won't be part of a campaign of calumny".
The waiting game
The head of the Directorate of Army Public Relations, Chris Olukolade, a brigadier-general, when contacted, requested that he should be left out of the matter.
Kayode Ogunsanya, a lieutenant colonel and the spokesperson for the Army's 81 Division, which oversees Bonny Cantonment, where Mr. Egbo is said to be currently serving, promised to contact him and then get back to NEXT. Two weeks have gone by and he is yet to respond. With tears in her eyes Mrs. Egbo said all she wants is for the father of her children to live up to his parental duties. As she wakes up early every day to prepare the food she sells on a roadside, she worries about raising enough money to pay her children's school fees, as schools resume February.
"For five years I have been struggling on my own. I have made up my mind to move on. I am not out for revenge but if Paul wants to divorce, he should do it the right way. He should also have compassion on his children and cater for them and not leave them to suffer this way," Mrs Egbo said.
More news and articles @ http://234next.com