Home » Posts tagged 'election process'
Tag Archives:
election process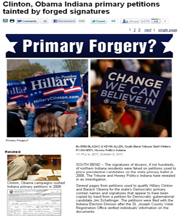 If you thought the recent George Clooney movie "Ides of March" made the political process seem a bit less than "ethical"… you should read about the reality of forged ballots in Indiana.
The signatures of dozens, if not hundreds, of northern Indiana residents were faked on petitions used to place presidential candidates on the state primary ballot in 2008, The Tribune and Howey Politics Indiana have revealed in an investigation.
Several pages from petitions used to qualify Hillary Clinton and Barack Obama for the state's Democratic primary contain names and signatures that appear to have been copied by hand from a petition for Democratic gubernatorial candidate Jim Schellinger. The petitions were filed with the Indiana Election Division after the St. Joseph County Voter Registration Office verified individuals' information on the documents.