Home » Posts tagged 'caregiver'
Tag Archives:
caregiver
This case is unbelievably common.  A woman's caregiver who took care of her for the last two years of her life decided that after the woman passed away she could just steal all her material possessions, including a very sexy 1965 Mustang.
As a previous owner of a red '65 Ford Mustang convertible, I can tell you how attractive this car makes you feel when you drive it.  But, does that really give her an excuse to commit forgery, write checks on a dead woman's bank account and make a fake will?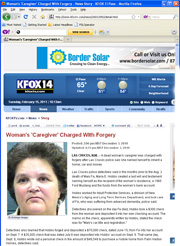 The reason I want you to look at this story is that it is incredibly common for whoever is around an older person when he dies to feel ethically obligated to take all his stuff, because many  people such as caregivers and the one brother that spends the last ten years of  life really feels entitled to have everything.
Forgeries incredibly common, and if I were a police inspector I would always look at the caregiver first and whoever was around during the last few years in that person's life.  They are normally the suspects of the crime, and these are not sophisticated forgeries.  These are very simple cases that you as a forensic document examiner will be able to help solve and get the estate back into the hands of the people that deserve it.
LAS CRUCES, N.M. — A dead woman's caregiver was charged with forgery after Las Cruces police said she named herself to inherit a home, car, and money.
Las Cruces police detectives said in the months prior to the Aug. 2 death of Mary Fix, Maria E. Hobbs created a last will and testament naming herself as the recipient of the woman's residence, a 1965 Ford Mustang, and the funds from the woman's bank account.
Hobbs worked for Adult Protective Services, a division of New Mexico's Aging and Long Term Services Department, and took care of Fix, who was suffering from advanced dementia, police said.
Detectives discovered on the day Fix died, Hobbs took a $300 check from the woman and deposited it into her own checking account. The memo on the check, apparently written by Hobbs, stated the check was for "Mary's car title and registration."
Detectives also learned that Hobbs forged and deposited a $70,000 check, dated June 15, from Fix into her account on Sept. 7.  A $35,000 check that was dated July 8 was deposited into Hobbs' account on Sept. 9.  That same day, Sept. 9, Hobbs wrote out a personal check in the amount of $48,548 to purchase a mobile home from Palm Harbor Homes, detectives said.
Detectives learned that Fix established a living trust in 2004 naming Washburn University as the beneficiary of her estate upon her death. LCPD began investigating the case when a financial adviser with Prudential Financial Group contacted police after attempting to execute Fix's trust.
Hobbs was charged with eight counts of forgery including two second-degree felony counts, five fourth-degree felonies, and one third-degree felony.
She was arrested Thursday by the U.S. Marshall's Service and is being held at the Dona Ana County Detention Center with bond set at $55,000.
More News and articles @ http://www.kfoxtv.com/index.html