If you watch too much TV and you think only Las Vegas, Miami, and New York have a need for forensic investigators.  Nope, every city with a court needs expert witnesses to spot forgery and testify against it.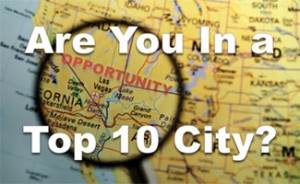 But, the question is "Do I live in a city with a shortage of forensic handwriting experts?"
If the answer is "Yes", then you are looking at a possible career change with lots of upside potential.
If you say "No", then you will have to work a bit harder to outsmart your veteran competition.
I received some email feedback on the videos I made about the state of
the handwriting expert industry… and it seems my comments weren't too
outrageous.  Whew! (I thought I might have gone a bit too far… after all,
there are tons of smart, serious people who want to take up this profession.)
In this struggling economic climate, it makes sense for people to
fear competition and  make up lies about what it takes to become a
court qualified forensic handwriting expert and start a new business.
I'm making a lot of "old school" document examiners mad.
I'm also putting a lot of people in business, building careers, and
putting good ethics back into an industry that needed a fresh look.
Sure, it sounds petty, but when you watch the video you will
understand why it is important to set the record straight.
Last year, we received an application from a guy who
got laid off from his job at a major US airline.  This year,
a full-time plumber is enrolled and making the career change.
You don't to have to have a background in the legal field or law enforcement
(but it doesn't hurt.)
We recently received an application from a Police officer who wants
to pay for her own forensic training to earn herself a higher paying job on the force.
We understand.  The whole point of a distance learning
school is to train you in the skills to build a second career.
In fact, if you are in certain cities around the USA, or some other
countries, being a certified forensic document examiner is like
being the only water fountain in the desert…
… business will come to you.
Over the past five years, every new case was worth about
460 /  in revenue to our graduates. Now, this is even increasing because of
some innovations in marketing and business systems and an increase in our pricing structure.
That adds up quickly if you are in a city with no competition.
That is recession proofing your life.
In other markets (I know which ones), there
are 4 or more people fighting for business.
Which city and state are you in?
Is there any competition?
Go to Yahoo.com or Google.com and search for "forensic document examiner YOUR CITY" and
see how many competitors you have in your state.   I would search "forensic document examiner
Los Angeles" to do my own market research.
And, I would look for both "sponsored listings" and for "organic listings".
Don't click on the sponsored links.. that cost your competition a dollar or more.
In fact, you  might be in a city which has a serious shortage of trained document examiners.
That means everyday, lawyers and people in your home town are sending their cases
to other cities (often 1000 miles away) because there is no one local to help them.
So, if you not really reading between the lines, here is the point…
If you are serious about changing careers, getting trained as  Forensic
Handwriting Expert could be your best defense.
http://internationalschool.us  <– We are still taking applications until January 23rd.
In my recent search, the following areas have the most
shortage and we want to put students in them:
San Fransisco  – Miami – Philadelphia – Phoenix – Cleveland  – El Paso – New Mexico
– Detroit – Minneapolis – Pittsburgh – San Diego – Charleston – New Orleans – Austin – St. Louis
Where do you live?
Now, as with any distance learning program, your own results will
vary on your own diligence, personality, and talent.  However, if you
join the Career Track program and let me send customers to your website…
you might be one of the few people NOT feeling the recession.
Do you know which industries boom during a recession?
Gambling and Drinking?  And, things relating to crime… such as
forgery.  Yep, forgery cases increase too (especially forged checks.)
So, you guessed it, training as Forgery Expert  is a smart "back up"
move for anyone who is worried about some extra revenue now, or
in retirement.
In fact, with the School of Forensic Document Examination's marketing
and coaching program, you can have customers calling you, as soon
as you have finished module one of the six module course.
It is all explained here, in this online video, if you have not watched it recently.
Plus, you can call our office to actually discuss which geographical
markets are "totally open" and which cities already have lots of
competition.
So, are you interested?
This is the week to submit your application  for the 2011 January semester.
You can download, fill-out, and submit your application without spending a dime.
Then, once accepted, you can make the final decision to invest in your education.
You might even qualify for financial aid.
Now, We will only accept 12 students this fall, so submit your application right
away and call our office with any questions, this week.
The International School of Forensic Document Examination website:http://internationalschool.us
Telephone  310 – 926- 1822
Sincerely,
BART BAGGETT
The International School of Forensic Document Examination
website:  http://internationalschool.us
Telephone  310 – 926- 1822
P.S. Forensic Document Examination commonly gets confused with
handwriting analysis for personality, but as you probably know by now is a completely
different career.  Naturally, both often involve handwriting but in order
to build a career you must master totally different skill sets and the
applications are completely different, too.  You don't have to be
certified in one to do the other… so you learn one, or both, at your own pace.
For your reference:
http://myhandwriting.com/learn